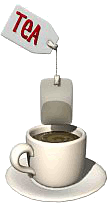 "A Cup of Tea and Wedding Songs...
What's Going On Here?"
The Chart, that's what! No gimmicks, no opt-in boxes, no long spiel.
Just The Master Wedding Songs Chart that
Cuts your music planning time in half
Makes choosing your music easy & fun
Reduces your music planning stress
Look, the concept is simple: Well over 250 quality, wedding-appropriate songs (most with song clip links) in 12 categories such as Prelude, Processional, Unity Candle Songs, Christian, Love Songs for Weddings, etc.--each classified as being traditional or contemporary--have been compiled for you and put all in one place: The Master Wedding Songs Chart.
"And the Cup of Tea....How Does It Fit In?"
That's simple, too
! Treat me to a nice hot cup of tea and treat yourself to more time and less stress via The Chart! Just click on the teacup:
"A Picture is Worth a Thousand Words..."
So for those of you curious about The Chart set-up, here's a screenshot: