Traditional Wedding Prelude Music
One thing nice about traditional wedding music: It's always "in"! Even bridal couples that choose a much more contemporary style for their wedding often include some traditional songs as well.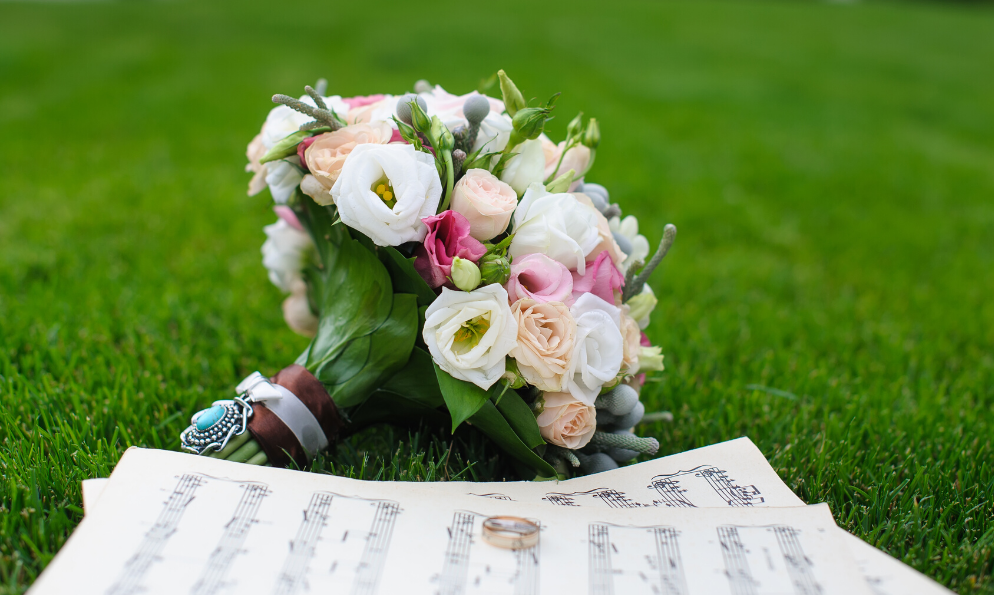 One thing to mention here.  Sometimes, when people hear the phrase traditional wedding music, they automatically assume that means only classical music.  
It really doesn't, but it is easy to confuse classical wedding music with weddings classics.
So, certain songs from genre(s) other than classical music "qualify" as traditional wedding prelude music because over time they've been performed in so many weddings that they're considered wedding classics. 
"One Hand, One Heart" from the musical West Side Story is one such example.  While not classical music, over the years it was a part of so many weddings that along the way it became a traditional wedding song. Another example is "All I Ask Of You" from Phantom Of The Opera. Again, not a classical piece, but its inclusion in so many weddings has made it a wedding tradition or a wedding classic nonetheless.

With that in mind, the following lists include just a small sampling of the many songs that can be considered traditional wedding prelude music or wedding classics. Also remember, as mentioned on other pages, that lots of songs are "multi-talented" and can just as easily be used in other parts of your wedding.  
For organization's sake, I've divided songs into sub-lists and will explain going forward.
---
The Classical List
I call this list the "Heavy Hitters" as these pieces are traditional classical wedding prelude music & were mostly composed by those in what I call the "big leagues" such has Handel, Bach, Debussy, etc.  
While it's true that you'll sometimes hear these songs performed by grandiose symphonies, chamber orchestras or pipe organs, don't allow that fact make you shy away from these pieces if you like them. There are available arrangements of these songs for instruments such as an acoustic guitar, a harp, a small string ensemble, or piano with a violin, cello or flute.
There's also another option: If you can't locate a musician(s) to provide this type of music for you, simply create your own digital wedding playlist on your device and DJ your own wedding!  With today's technology, you can surely have whatever you want.   
While the following list is a mere sampling of classical music for weddings, it does contain some of the more frequently performed pieces. 
Air (from Handel's Water Music)    

Air on a G String  (Bach)

Arioso (Bach)

Ave Maria (Bach/Gounod)

Ave Maria (Schubert)

Canon in D (Pachelbel)

Claire De Lune (Debussy)

Fur Elise (Beethoven)

Hornpipe (Allegro Maestros from Water Music by Handel)

Jesu, Joy of Man's Desiring (Bach)

Largo (Ombra Mai Fu by Handel)

Meditation (from Thais by Massenet)

Moonlight Sonata (Beethoven)

Ode To Joy (Beethoven)

Pastoral Symphony (from The Messiah by Handel)

Sheep May Safely Graze (Bach)

Simple Gifts (Shaker Hymn)

Sleepers, Awake (Bach)

The Maid With The Flaxen Hair (Debussy)

To A Wild Rose (Macdowell)
Traditional Wedding Prelude Classics
As you'll see, these selections are from a myriad of genres & again, they're just a sampling of classics often used.  They're being classified as traditional since they weren't super recently composed.  Most, if not all, are said to be composed or released no later than 1995. In fact, "Someone To Watch Over Me" by George Gershwin is from 1926!
A Whole New World 
All I Ask Of You
At Last
Beauty & The Beast
Because You Loved Me
Bless The Broken Road
Can You Feel The Love Tonight
Can't Help Falling In Love
Edelweiss
Have I Told You Lately
Hymne (Vangelis)
Just The Way You Are
One Hand, One Heart
Someone To Watch Over Me
You Are So Beautiful
The Wedding Song (by Kenny G)
Wedding Song-There Is Love
Wind Beneath My Wings
Contemporary Wedding Prelude Songs
The following songs appear on this list as their composition, or at least release date, is said to be after 1995.
This is going to sound like an oxymoron, but even though this is the contemporary prelude songs list, it's on this page because these songs have a tradition of being used in wedding preludes even though, as usual, they can easily be used elsewhere in a wedding.  
A Thousand Years
All Of Me
Angels Watching (Pianissimo Bros.)
Butterfly Kisses
Falling In Love (Piano Brothers)
From This Moment On (Shania Twain)
I Can Only Imagine (MercyMe)
I Do (Cherish You)
I Won't Give Up (Mraz)
I'm Yours (Jason Mraz)
Perfect (Ed Sheehan)
The Prayer
You Raise Me Up
Return to Wedding Songs Galore from Traditional Wedding Prelude Music