Wedding Piano

Looking for wedding piano ideas for a cozy, intimate wedding and/or reception?  Piano music--be it live or be it a CD or digital format-- would certainly fit the setting. Luckily, either option is easy to obtain.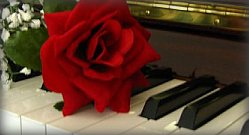 Tip: Fortunately, there are many accomplished pianists in the world and you shouldn't have much trouble finding one in your area. Organists can also be terrific pianists (but it does not necessarily work the other way around!). If you don't know a pianist or an organist, contacting a local college/university can help you find a wonderful pianist in short order. A reputable piano teacher and/or local music stores can also be excellent sources in your quest.
As far as wedding piano websites are concerned, I think a must-see site is:

A Favorite Wedding Piano Site
The Piano Brothers
which features music by the O'Neill Brothers (aka The Piano Brothers). If you're short on time and just want a quick sampling of 2 of their wedding CDs, clicking on either one of the following will take you directly to the CDs on Amazon:
However, I seriously recommend spending some time at The Piano Brothers. They offer 3 wedding CDs and each song has a song clip of decent length. Each CD places every song into either the prelude, processional, ceremony, recessional or reception category to make planning easier. The CDs can be purchased individually or in package deals.  
In addition, if you look clear at the top of their website and to the extreme right, you'll find a link entitled My Wedding Music.  Click on it will take you specifically to their piano wedding site.  Once there, you will find tons more very helpful information.  
Beyond the above:
MP3 downloads are only $0.99 and a complete list can be found by clicking on the A-Z Wedding Songs button.
Want some of their songs in sheet music form? No problem. Just go under the "Shop" heading and click on Sheet Music where you can purchase either a hard-copy copy (for $3.98 + shipping) or a digital download copy for $4.98. One beauty of the digital download copy? If need be, the music can be transposed into another key before you print it! Pure music heaven!
Thinking of using an iPod for some/all of your wedding music to save money? Click oniPod Wedding under the DJs heading on the Navigation Bar located on the LEFT side of the page. You'll find 5 playlist mixes that each contain 13 songs. A nice option!
(As an aside, you probably already know that Pachelbel's Canon in D is a very popular wedding processional song and for good reasons.  Take a break for a moment now, & listen to "Rockelbel"....a clever and fun take on Canon in D by The Piano Guys!)
In my opinion, The Piano Brothers have many beautiful arrangements (not just wedding songs, either) played with melodious expression which creates a wonderfully relaxing listening experience. To view all of their available music and CDs, visit The O'Neill Brothers.

Obviously, other piano wedding music CDs with song clips can easily be found online. Here are just a couple:

The Gift Of Love by Christopher West is a 2-CD set with 10 songs on each CD that contains a nice mix of pop and traditional piano wedding music.
Return to Wedding Songs Homepage from Piano Wedding Music