Unity Candle Songs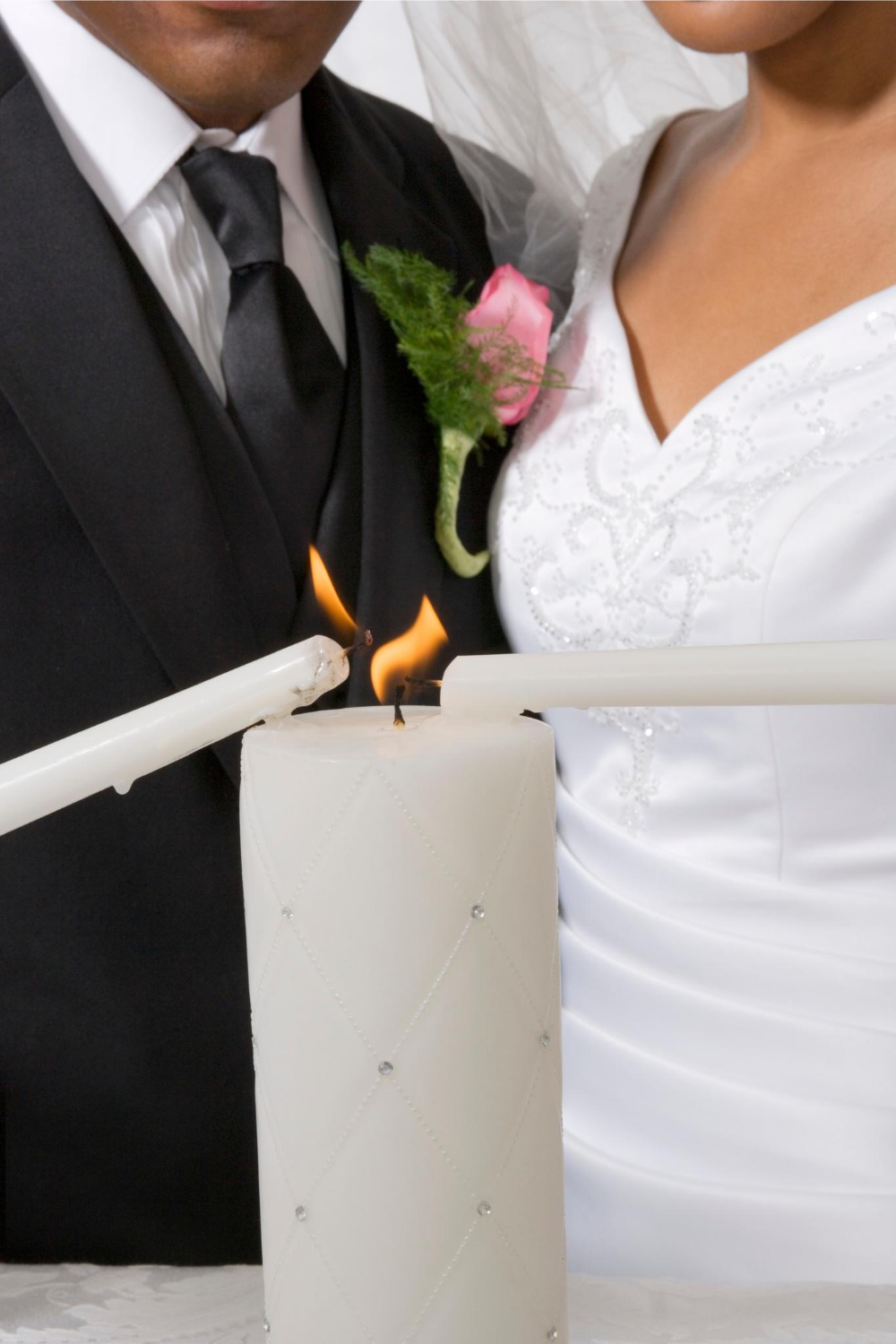 This page of unity candle songs is for you if you're lighting a unity candle or performing the unity sand ceremony in your wedding.  
While the exact history and origin of the unity candle is a bit "cloudy", it is mostly associated with Christian weddings in the USA. It is not, however, a religious ceremony in and of itself. 
Basically, it symbolizes either of the following:  the couple becoming one unit or the coming together of two families into one united family that rejoices in and loves the newly created union.
But before viewing the list, take a minute to consider the following points:
First & foremost, when choosing a song, realize that this

 ceremony doesn't take very long! 

Therefore, you may want to choose a shorter song or have the song "spliced" or perhaps have just the refrain performed.  After you light the candle or pour the sand & return to your spot, you'll just be standing there. (As a real-life example, see the video below for the song entitled "When I Say I Do".)  

For that reason, a hymn can be a good option due to its length, but vocal music that has special meaning for you both can be

another good option at this point, and it gives your wedding guests something to focus on.

If you do choose vocal music, make sure that the song's lyrics are appropriate for the moment.
---
Sand can be a nice alternative to candles..especially outdoors!

As always, keep in mind that many of these songs are "multi-talented"!

Meaning that many are also suitable for other parts of the wedding ceremony such as before or after readings, after the vows are exchanged, after a prayer, and during communion.

And beyond that, many are excellent in a wedding prelude as well.
As always, keep in mind that while the following songs qualify nicely for unity candle songs, many are also suitable for other parts of the wedding ceremony such as before or after readings, after the vows are exchanged, after a prayer, and during communion.
Unity Candle Songs
Amazing Grace
If your's is a Christian wedding, it's hard to go wrong with Amazing Grace no matter where in the wedding it's used.  If only played through once, it is fairly short which can help the flow, but can easily be repeated if more time is needed.  
This particular arrangement has a nice flow to it giving it a more "dressed up" sound than an arrangement straight from a hymn book.
---
Blest Be The Tie That Binds
A Christian hymn, this is fine for a candle or sand ceremony, and is short--great for a quick ceremony!
---
Here We Stand
This song from T Carter Music could suit you, especially if you are looking for a piece from the country music genre & has a religious component.  
---
Household Of Faith
Recorded by Steve Green years ago, this is another strongly Christian song that is perfect as a unity candle song. Because of the lyrics, it is an excellent choice for a vocalist (and not all verses have to be performed).
---
I Choose You
A contemporary song by Ryann Darling, the lyrics make it very appropriate for the moment.
---
I Found You
Recorded by CeCe & BeBe Wynans, this song also has lyrics that "work".  And again, the song can be shortened.
---
Light of Love
A contemporary song, the theme of the song can be summed up by a lyric line from the song that declares "In unity, in the light of love, we are one."  Definitely excellent words for the occasion.  At only about 2 minutes from start to finish, this song can also boast brevity!
---
O Perfect Love
Out of all the songs in a Christian hymnbook, this is probably one of the most commonly used songs as a wedding hymn for a couple of reasons, one being that it is not long & secondly, its lyrics.  Carefully read them as they are sung and you'll see that they are ideal for the occasion.

One Hand, One Heart
Even though written long ago, this song from the musical West Side Story continues to be used, be it as a unity candle song or as part of the wedding prelude songs.  In particular, it's not real lengthy & particularly lends itself nicely to a vocalist because of the lyrics:

Make of our hands, one hand./Make of our hearts, one heart./Make of our vows one last vow./Only death will part us now./Make of our lives, one life./Day after day, one life./Now we begin, now we start./One hand, one heart./Even death won't part us now.                                                                                                                                
The Marriage Prayer
A contemporary Christian song from John Waller, the length is a bit long but see for yourself if it would suit you.
---
This Is The Day
This gentle Christian song has beautifully appropriate lyrics for the occasion. And it has an added bonus: a relatively short length!
---
Two Becoming One
A little bit long, but can be shortened by selecting the verse(s) you want.  Again, this Christian song has lyrics that lend themselves very nicely as a unity candle song.
---
When I Say I Do
Here's a real-life version of this song being performed by a vocal duet as the bridal couple performs the unity sand ceremony to these appropriate lyrics.  
However, also notice that even though the couple completed the unity sand ceremony in a leisurely fashion, they were already done around the song's 2 minute mark with another 2 minutes yet to go.  
As I mention in the Tip Box, things can get a bit awkward.  Decide for yourself!
---
When Love Is Found (aka The Gift Of Love)

When Love Is Found is a gently flowing piece which an old English melody was paired with the Biblical text from 1 Corinthians 13 & is also known as The Gift Of Love.  After listening to & reading the lyrics, you'll find that it is suitable for a unity candle song & also is an ideal Christian wedding hymn.
One more benefit:  It's one of those "it's not long" songs!  And if a vocalist is performing it, you can choose the number of verses sung.
The second video is the O'Neill Brothers piano & instrumental arrangement & features no accompanying lyrics. The lyrics provided below belong to The Gift Of Love.
Verse 1:  Though I may speak with bravest fire, and have the gift to all inspire, and have not love, my words are vain, as sounding brass and hopeless gain.
Verse 2:  Though I may give all I possess, and striving so my love profess, but not be given by love within, the profit soon turns strangely thin.
Verse 3:  Come Spirit, come, our hearts control, our spirits long to be made whole, let inward love side every deed, by this we worship and are freed.
Words or not, I have performed it on the harp many times in wedding preludes and it has always been well received.  
---
Now that you've reviewed some unity candle songs for the lighting of your unity candle or as special music within the ceremony, and if you've planned your prelude & wedding processional, you'll want to start looking at some jubilant wedding recessional music to send you on your way.

---
Return from Unity Candle Songs to Wedding Songs Homepage