Wedding Prelude Songs:  The Little Secret
The "little secret" is that many couples don't know what wedding prelude songs they want.  And to be truthful, many of them don't care, either!
If you find yourself in either category, relax, it's not a big problem.  Read on....  
Tips for Your Wedding Prelude Songs
---
If you do have an idea of the music genre(s) you prefer but don't have exact songs in mind, furnish your musician with your preferred genre(s), then let them choose the wedding prelude songs.

If you do have some definite songs in mind, tell your musician of your choices as soon as possible. Also, and very importantly, if your wedding is in a House of Worship, be sure

 to confer with the officiant about your music choices to make certain they are permissible.

As a general guideline, most wedding preludes are somewhere between 15-30 minutes long, depending on things such as your personal preference, wedding size, & the degree of formality.

So how many songs might be in your prelude?  As a rough guideline, allow 3 to 3-1/2 minutes per piece of music.  So, for example, if your prelude will be 20 minutes long, you'll need approximately 6-7 songs.

One last point.  Just because a piece may be thought of as usually being a prelude song, does not mean that it can't be used as a processional, recessional, or even as special music within the ceremony itself. Many songs are interchangeable in that regard, so as long as it's okay with your officiant, you have quite a bit of flexibility!
---
Right about now, you might be thinking, "Why do my wedding prelude songs matter much anyhow?"  Fair question!
The Purpose of Your Wedding Prelude
Your guests can enjoy your wedding prelude as they await your arrival.
First, it sets the mood and tone for the entire wedding itself.

Secondly, this is often the time (especially right before the processional begins) where a soloist shares music--be it vocal or instrumental--that holds special meaning for you both.
Thirdly, it provides a pleasant atmosphere for your guests while they await your arrival.  After all, who wants to sit at such a festive occasion for 20+ minutes and hear....absolutely nothing?  
And, as a bonus, it can be helpful in holding down the noise factor of your guests.  They can get pretty chatty!
The wedding prelude songs listed below have been placed into the 2 broad categories of traditional and contemporary, with the traditional being listed first. 
Traditional Wedding Prelude Songs
One thing nice about traditional wedding prelude songs: They're always "in"! Even bridal couples that choose a much more contemporary style for their wedding often include some traditional songs as well.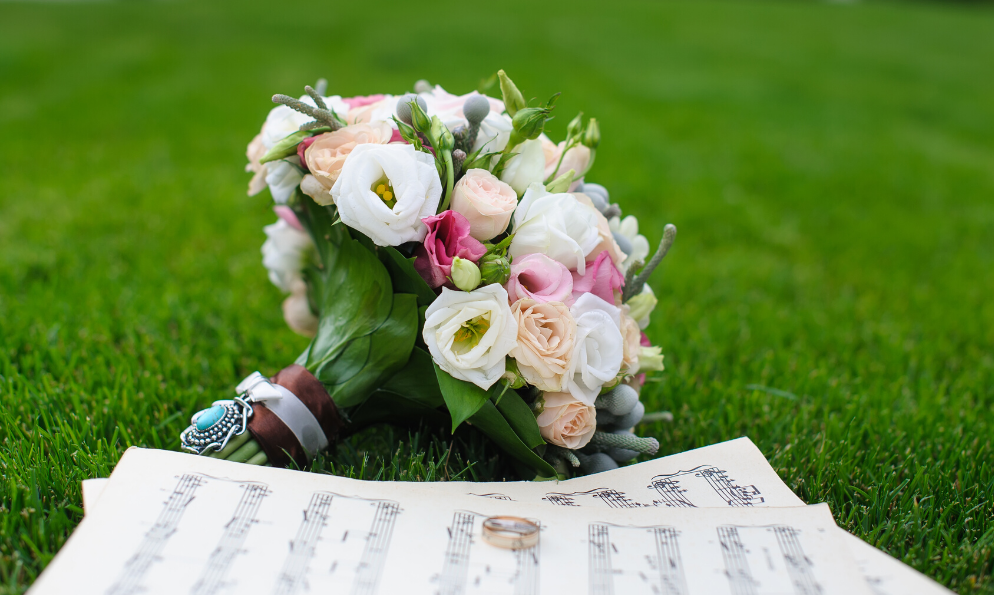 But one more thing to mention here.  Sometimes, when people hear the phrase traditional wedding music, they automatically assume that means only classical music. 
It doesn't, but it is easy to confuse classical wedding music with weddings classics. 
Certain songs outside the classical genre "qualify" as traditional wedding prelude songs because over time they've been performed in so many weddings that they're considered wedding classics. 
One Hand, One Heart from the musical West Side Story is one such example.  While not classical music, over the years it was a part of so many weddings that along the way it became a traditional wedding song. Another example is All I Ask Of You from Phantom Of The Opera. Again, not a classical piece, but its inclusion in so many weddings has made it a wedding tradition or a wedding classic nonetheless.
Very importantly, remember, as mentioned on other pages, that lots of songs are "multi-talented" and can just as easily be used in other parts of your wedding.  
With the above in mind, the 1st traditional song sublist sampling is classical music.

The Classical Wedding Prelude Songs List
Mostly composed by those in what I call the "big leagues" such has Handel, Bach, Debussy, etc., you'll sometimes hear these songs performed by grandiose symphonies, chamber orchestras or pipe organs.
But don't allow that make you shy away from these pieces if you like them. There are many arrangements of these songs for instruments such as an acoustic guitar, a harp, a small string ensemble, or piano with a violin, cello or flute. 
If for some reason you can't find a musician(s) to provide this type of music for you, create your own digital wedding playlist on your device and DJ your own wedding ceremony & have whatever wedding prelude songs you want! 
Here's just a sampling of some of the more frequently performed classical wedding prelude songs. 
Air (from Handel's Water Music)
Definitely a well-known classical piece by Handel, it is often performed by a string quartet, but can be just as easily performed by a single violin, a guitar, piano, harp, or organ.  Many arrangements are available!
---
Air On A G String (Bach)

Another well-known piece among the classical enthusiasts from the Baroque era, it is excellently suited for string instruments, although many other arrangements for instruments such as organ, piano, flute with strings, etc. are readily available. Sometimes, it is used for the bride's entrance song.

---
Arioso (Bach)

Yes, another well-known piece from the pen of Bach, it too is often performed by a string quartet, many other arrangements exist including, for example, an organ solo or with another instrument such as an oboe, a piano solo or piano with cello or violin.  

---
Ave Maria (Bach/Gounod)

This beautiful piece is very frequently played or sung (especially at Catholic weddings) & can be performed at various points in the ceremony.  Personally, I have been requested to performed this as the mothers are being seated.  One nice thing about this song is, that for a classical piece, it does not take long to perform...usually around the 3 minute mark.

---
Ave Maria (Schubert)

Schubert is the composer for this particular Ave Maria, and it is performed quite frequently at weddings as well,  Again, it can be performed instrumentally or beautifully with instrument and voice.  (I performed it this way at a wedding and it was very well received.) 

---
Canon In D (Pachelbel)

Notice that the title is not cannon!  (I've had folks write the name of the song like that.)  And the "D" part in the title?  Just means it's in the key of D. A canon is simply a type of musical composition.  Most people are probably familiar with a type of canon called a round.  Do you remember ever singing Frere Jacques or Row, Row, Row Your Boat in a "round" in music class at school?   

As sometimes happens with music, this song was popular in its day, but for a period "went out of style".  
However, around the 1970s & 80s, it was "revived" when new recordings were made & began to be played on the airwaves & used extensively in background music.  Its chord progression of 1-5-6-3-4-1-4-5 is one of the most famous progressions written and in recent decades has even been used in writing pop songs.
From about the 1980s to the present, Canon in D has frequently been used in weddings, either as a wedding prelude song, or even more frequently as a wedding processional song.  At any rate, this song can be a gem for weddings....and for good reason.  Here's why:  
Unlike many other songs, its composition allows musicians to end the piece in several spots without sounding abrupt-like.  This can be invaluable for timing and being able to end or even extend a processional when the circumstances dictate & nobody is the wiser for it!
Many arrangements & versions exist for a variety of instruments so you are by no means limited to having it performed by stringed instruments.  Considering the following performed by piano and cello.
---
Claire De Lune (Debussy)

Claire De Lune is a beautiful emotive piece quite suitable for a wedding prelude.  While it is a bit lengthy, there are different arrangements with varying degrees of length.  Again, arrangements are available for various instrumentation.

---
Fur Elise (Beethoven)

It could probably be said that Fur Elise is one of Beethoven's most popular compositions, although it is reported that it was not published until after his death.  It can also be "spliced" for time if necessary.

---
Jesu, Joy Of Man's Desiring (Bach)

Very often used in wedding preludes, this is an excellent way to incorporate some traditional Christian wedding music.  It can also serve as a wedding processional piece.

---
Largo (Handel)

A slower, calming piece appropriate for a wedding prelude or as a wedding processional song available in many arrangements.  Below is a sample from the wonderful O'Neill Brothers.

---
Meditation (from Thais by Massenet)

Having a violin and piano performing at your wedding?  If so, consider this gorgeous piece from the opera Thais as it lends itself beautifully to the pairing of a violin and piano.  There are, of course, other arrangements for single instruments that are available as well.

---
Moonlight Sonata (Beethoven)

Anyone that likes classical music will easily recognize this serene song often performed by stringed instruments as well as on piano.  Bear in mind that it is a bit lengthy.

---
Ode To Joy (Beethoven)

This song really needs no introduction as it is such a well-known melody.  Often used also as a wedding recessional, the nice thing about this piece is that it is not too complicated, thus making it well within the reach of many musicians.

---
Pastoral Symphony (from The Messiah by Handel)

While probably not used often in a wedding, if you are a fan of Handel's The Messiah, this could be a unique calming choice of music for your prelude, whether it's performed by string instruments, organ or piano.  While it can certainly be used in any season, it would be especially apropo if your wedding is around Christmas.

---
Sheep May Safely Graze (Bach)

Another peaceful classical number for a wedding prelude, there are arrangements for all sorts of instruments including organ, strings, piano and combinations there of!  The following is a delicate piano arrangement by Miranda Wong.

---
Sleepers, Awake (aka Wachet Auf) (Bach)

Bach strikes again!  Sleepers, Awake is a familiar cantata sacred.  Again, arrangements are available for a wide range of instruments & in varying degrees of difficulty.   You certainly don't need a whole string section! Fairly uncomplicated arrangements do exist for singular instruments such as piano.

---
The Girl With The Flaxen Hair (Debussy)

One of Debussy's creations, it is an interesting piece. The sample below is arranged for piano.  I find that, with many people, they either like Debussy or they don't!  Decide for yourself!

---
To A Wild Rose (Macdowell)

Composed by Macdowell, this song is one piece in a collection entitled Woodland Sketches and is an expressive, gentle song which is quite beautiful when played with emotion.  Another nice plus:  it is not very long! Often performed on piano or organ with or without another instrument, fairly uncomplicated arrangements are readily available.  Hear it played on the piano below. 

The Classics
Here's a sampling of classics often used that are from a myriad of genres.  They're being classified as traditional since they weren't super recently composed.  Most, if not all, are said to be composed or released no later than 1995, and some much earlier.  In fact, Someone To Watch Over Me by George Gershwin is from 1926.
A Whole New World

Who isn't familiar with this love theme song from Disney's 1992 film Aladdin by Menkin & Rice?  While it has nice lyrics, if used as a wedding prelude song, an instrumental version is probably best.  However, if using for the first dance at your reception, a vocal version could be nice.  

I couldn't resist adding a 2nd instrumental video of this song which is from Disney's Fairy Tale Wedding--Track 9!
---
All I Ask Of You 

From the 1986 musical Phantom of the Opera, this song with its appropriate lyrics has been no stranger to weddings.  Hear Josh Groban & Kelly Clarkson perform their beautiful rendition.

---
Beauty & The Beast 

Another Disney classic from the movie with the same name, it is a frequent choice for weddings, often being used as a wedding prelude song, an aisle processional for children and others to the first wedding dance. 
---
Bless The Broken Road

It could probably be argued that the Rascal Flatts' version was the most popular recording of this country pop song originally released in 1994.  The following is from the O'Neill Brothers "A Day to Remember Instrumental Wedding CD".

---
Can You Feel The Love Tonight

From another Disney blockbuster 1994 film, The Lion King, this song composed by Elton John is useful as a wedding prelude song to a wedding reception song....especially as a first wedding dance song.  Enjoy the wonderfully unique & beautiful arrangement below!

---
Can't Help Falling In Love

"Can't help" saying that this pop song recorded in the early 1960s will probably always be associated with Elvis Presley, and it's never become "out of style".  The following video featuring the piano skillfully intertwines the song with elements of Pachelbel's classical piece Canon in D as well as Bach's Air on a G String .

---
Edelweiss

I have a confession to make:  When I first began providing wedding music, I highly doubted that Edelweiss would ever be used as a wedding prelude song.  Perhaps for easy listening background music for dining at a wedding reception, but not as a wedding prelude song.  I was wrong!  
Being in waltz time, it is a simple gentle flowing song that became a favorite from Rodgers' & Hammerstein's The Sound of Music and I have performed it several times in the prelude. 
---
Hymne (Vangelis)

This is another song that can be used in more than one place in a wedding ceremony.  In addition to being used as a the wedding prelude song, it is equally useful as wedding processional music (it may need to be shortened a bit).

Two videos of this song are above, just to demonstrate that, like most songs, it can be played on differing instruments!  The first is on a piano and the second is on a "baby harp"!
---
One Hand, One Heart

From the musical West Side Story continues to be used within the wedding ceremony, be it as a wedding prelude song or in the actual ceremony itself.  In particular, it's not real lengthy & it lends itself nicely to a vocalist because of the lyrics:

Make of our hands, one hand.                                                                                                                            Make of our hearts, one heart.                                                                                                                        Make of our vows one last vow.                                                                                                                           Only death will part us now.
Make of our lives, one life.                                                                                                                                 Day after day, one life.                                                                                                                                 Now we begin, now we start.                                                                                                                         One hand, one heart.                                                                                                                                        Even death won't part us now.
---
The Wedding Song (Kenny G)

Think everyone's at least familiar with this tune.  Probably no need to say much more!

---
The Wedding Song-There Is Love

Another "tried and true" wedding song, this 1971 hit by Paul Stookey is still used at wedding ceremonies.  The vocal version piece suits well as a solo piece.

---
The Wind Beneath My Wings

While this song from 1982 is often used at wedding receptions, it can be appropriate for a wedding ceremony, be it instrumentally or vocally performed especially due to the lyrics.  

While the sample below is not in the wedding setting, it is a heart-warming clip to watch.  If you can, take a moment to enjoy it!
The Contemporary List
A Thousand Years

Co-composed & sung by Christina Perri in The Twilight Saga movie, it has definitely become a wedding staple...whether it's used in the prelude, the processional, the recessional or on the dance floor.  The rendition below is piano with cello by The Piano Guys.

---
All of Me
Probably one of John Legend's most popular songs, it can be used as a wedding prelude song, a wedding ceremony song or a dance song.  Your choice.

---
Angels Watching
While this song may not be well-known, if you are looking for something a bit out of the ordinary, consider this for one of your wedding prelude songs.  Because this song is rather delicate, sound-wise it would be especially appropriate for a smaller wedding venue.  

---
Butterfly Kisses
Written and sung by contemporary Christian songwriter/singer Bob Carlisle, people on all levels fell in love with this emotional song.  In 1997, it won the Grammy for the Best Country Song.  It also captured first place honors as the Song of the Year at the Dove Awards.  

He wrote it after looking at old photos of his then 16 year old daughter & realizing that she was growing into a young woman, & thought it probably wouldn't be too many more years that she would still be living with the family.  
While it's very often played for the father daughter dance, it can be appropriate as a ceremony or wedding prelude song, most especially because of the lyrics.  Listen to the lyrics and see if you agree!
---
Falling In Love (Piano Brothers)

An original contemporary composition by the O'Neill Brothers (aka The Piano Brothers), Falling in Love is a definite possibility.

---
From This Moment On
This country-flavored song by Shania Twain is no stranger to weddings.  Even though it is often used as a first dance song, it is equally at home as part of the wedding ceremony (if you don't believe me, watch the following video), most likely because of the lyrics, the beginning of which almost reads like wedding vows.

---
I Can Only Imagine
I have to admit that, initially, the use of this wildly popular Christian song by MercyMe at a wedding puzzled me a bit...that is until I understood the lyrics better.  It certainly has received overwhelming accolades.  It can easily be used as an instrumental or vocal piece.

Listen to a shortened piano version & see if it's right for you!
---
I Won't give Up
Released in 2012, this ballad by Mraz with lyrics that speak of "not giving up" on a relationship has found its way into weddings.  

---
I'm Yours
Don't think that this song by Mraz needs much introduction.  On a different flair, the accompanying video features a wedding string quart performing it.

---
Perfect
It is reported that this song by Ed Sheeran (whose brother, by the way, is a classical composer) was the most heard song on the radio in the US in 2018.  Little wonder it makes appearances at weddings!

Just to show the various arrangements available for a song, the video above is a lovely version of Perfect melded with Canon in D.
---
The Prayer
Written by David Foster & Carole Bayer Sager, and probably most famously sung by the great Andre Bocelli and Celine Dion.  It can be a bit long, but can be shortened (I've performed a shortened version on the harp at a wedding to make it fit time constraints) & can be placed anywhere within a wedding prelude or ceremony.

While not in wedding settings, the above 2 videos feature the famed Andre Bocelli/Celine Dion version and a touching & very peaceful arrangement by the Moipei Quartet, originally from Kenya. 
---
You Raise Me Up

Written by a Norwegian & Irish pair and released in 2001, this song has obviously enjoyed world-wide success.  The lyrics lend themselves quite nicely to a wedding ceremony & I have performed it vocally with my harp accompaniment at a wedding renewal ceremony.  It also makes a great wedding dance.

This video by Secret Garden is the first & original version.
Beyond that, you can quickly browse some wedding prelude music CDs
with mp3 streaming that offer a variety of music which should provide you with some helpful song ideas.