Choose Your Wedding Processional Songs
It's time to look at some wedding processional songs for your much-anticipated walk down the aisle now that your wedding prelude music has ended.
Before we get into specifics, take a minute to read 3 tips listed just below.

When you stop to think about it, wedding processional songs really don't last very long…depending on things such as the number in the wedding party, how fast they walk, and particularly the aisle length.


Realize that, unless your wedding is in a large church/cathedral, or large venue, most wedding aisles are fairly short so consider the aisle length in relation to your song choice(s).

---
| | |
| --- | --- |
| | In regards to wedding processional songs, often there are 2 different ones chosen:  one for the attendants and one for the bride.  However, that is purely a matter of preference.  Smaller weddings with 1 or 2 attendants may opt for just one piece of music for both the attendants and the bride.  Feel free to choose one or two songs for your wedding march music. |
---
Obviously, the wedding processional is meant to be finished as soon as the bride reaches the front.  Most are instrumentally performed.  This is where having live music can be helpful as your musician(s) can respond in "real time" to shorten or lengthen the processional if needed in order to finish at just the right time.

Also, if you are having live music & have a particular part of a song (usually the chorus/refrain) that you specifically want played for your aisle walk, let your wedding musician know & they can usually tailor that part of the song to your wedding march time frame.  It is rare that an entire song is played for your processional--unless there is 1 not-so-long song for the bridal party and you.
---
| | |
| --- | --- |
| | Having played many wedding processionals, I have found that, since the adrenalin is flowing and excitement levels are high, the general tendency for the bridesmaid(s) and bride is to speed up their walking pace.  The point? While a snail's pace is undesirable, you're not in a 50-yard dash either!  Pace your walk and savor those moments. After all, they're yours! |
---
| | |
| --- | --- |
| | One last thought:  Having a vocalist for your wedding processional song can be a bit tricky.  Think about it.  You want your processional songs to be done when you arrive at the front.  What if your soloist(s) are in the song's middle, where & how do they end it? |
---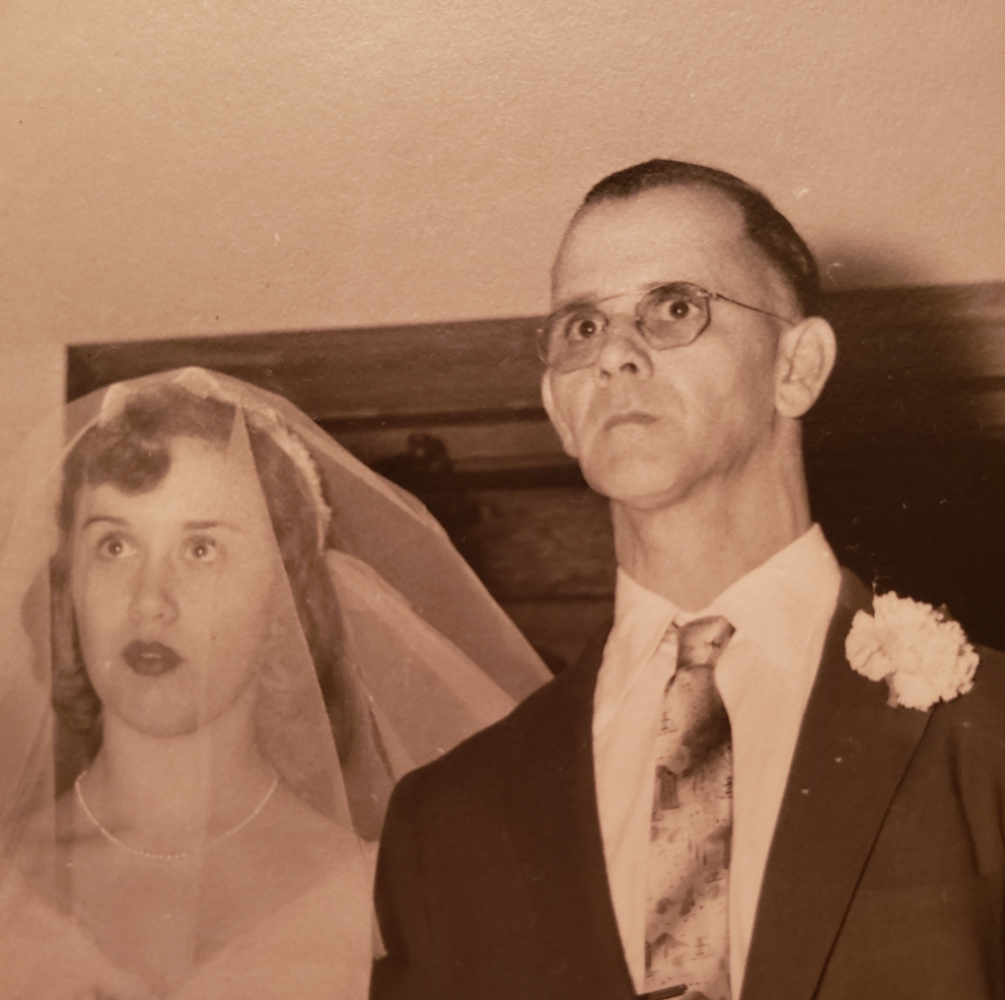 Someone forgot to tell this father of the bride to look happy and relaxed.....not terrified!
Listed below are some wedding processional songs. 
Remember, the songs listed are not strictly processional music and may be used in other parts of the wedding. However, some are particularly well-suited as wedding processional songs.
There are 2 lists:  The traditional music list and the more contemporary list.  
For the classical music songs, the composer's name is listed in parenthesis beside the song title.  Armed with that information, you're off and.................walking.
Wedding Processional Songs
The Traditionals
Please note:  If you've been to the wedding prelude songs page, you'll know that some of these wedding processional songs are listed there.  If you haven't been to that page, clicking on the titles of the 4 following songs will take you there for video samples and more related info.  Otherwise, scroll on!
Amazing Grace
Amazing Grace is a song suitable for so many occasions, but this sample was included because of its uniqueness in that the arrangement is meant to be the processional for the bridal party and the bride.  Note that it is a soundtrack & could be purchased at https://mattrileymusic.com/wedding-pr...(And no, I am not an affiliate!)
---
Arrival Of The Queen Of Sheba (Handel)
Yes, this is another one of Handel's "heavy duty" classical pieces that's jubilant and upbeat!  Arrangements exist for various instruments such as strings, organ (sounds awesome on a pipe organ), piano, and brass.  
If you like it, don't worry about its length as it can easily be shortened for a processional.  The 2 very different videos below showcase it with brass and then with strings.
---
Bridal Chorus (aka Here Comes The Bride) from 'Lohengrin' (Wagner)
This song is as traditional as it gets & so it needs no introduction! This is an organ version.  As with most other pieces, it can be done on other instruments. I've performed it many times on a harp & it is very easy to play only sections that are needed for the aisle timing.

---
Rigaudon (Campra)
This classical piece provides a stately sound for a processional.  The sample here is on the organ, but other instrumentation arrangements exist. 

---
St. Anthony's Chorale (Haydn)
Often performed on an organ, the following version is a relaxing piano arrangement.  This song also makes for a nice prelude song & is not long in length...which is quite helpful for a wedding processional song!

---
Trumpet Tune (Purcell)
This piece has a definite "march" quality and is first performed here on the piano, then with trumpet and strings.  It can be a very grandiose sound on an organ with the trumpet stop on or a real life trumpeter!
It is equally suited as a classical wedding recessional song.
---
Trumpet Voluntary (The Prince of Denmark's March) (Clarke)
Trumpet Voluntary is another wonderful piece that can serve as a wedding march & it is equally at home as a wedding recessional song. Just like Trumpet Tune, it is perfect for a trumpet to "shine"! 
---
Wedding Processional (from The Sound of Music)
If you've ever watched The Sound of Music, you'll recognize this piece as Maria's processional....minus the "How do you solve a problem like Maria" part!  Since it's not presently used often, it is an option if you're looking for something a bit different.  Obviously a stately processional, it is fantastic on an organ.
The Contemporaries
Just as some songs in the Traditional List are also on the wedding prelude songs, the following Contemporary List Songs are also on the prelude list.....with the notable exception of the Butterfly Waltz.
Clicking on the song's title will take you to more detail.  Otherwise, scroll down for more songs.
A Thousand Years
This is a nice piano arrangement sample by The Piano Brothers (aka The O'Neill Brothers) of A Thousand Years, made famous, of course, by singer Christina Perri.  For some couples, it's definitely a wedding favorite.
---
Because You Loved Me
Written by Diane Warren & produced by David Foster, this piece served as the theme song for the 1996 film Up Close and Personal & is of the pop genre and was recorded by the famed Celine Dion.  While the video here is not of a wedding, the words are included & it seems only right that the diva herself should sing it!  
If used as a processional or as a prelude piece, often an instrumental version is used.  However, it is also used vocally as a wedding dance at the reception. 
---
Canon In F
Canon In F--This is not the same song as Canon in D!  This one was composed by the O'Neill Brothers, aka the Piano Bros, and while the very beginning pattern sounds a bit like Canon in D, it becomes apparent that it is not the same song in just a different key!
Forever In Love 
By Kenny G, the title says it all!  Easily suitable as contemporary prelude, processional and reception music.
---
Forever My Love
Written by The O'Neill Brothers, and not to be confused with Kenny G's Forever In Love, this song comes in various arrangements such as for strictly piano, or piano with cello or sax & the song's length can be altered as need be. 
---
Glasgow Love Theme
Here's a real-life example of this beautiful melody from the movie "Love Actually" being used as a wedding processional song.  Notice how the clip is only 1 minute long, proving how a song can be timely ended.
---
When I Said I Do
If you're a country music lover, this song could be a wedding ceremony song for you!  Honestly not sure that it's the best for a processional, but the lyrics for a country ceremony are spot on.  At any rate, an instrumental version is available.
---
Marry Me
By Train, for a wedding ceremony, an instrumental version would probably be best.  (However, in the video below a vocal arrangement is used for the bridal party processional.)
---
Reminiscent Joy
Composed by the Piano Brothers, this piano solo is gentle and flowing-like.  See if it's your style!

---
The Wedding Song (Kenny G)
Even though Kenny G plays this song on his sax, this peaceful arrangement is for the piano.  
---
The last notes of your wedding processional music have been played and now the actual ceremony itself is about to begin. Will you be performing the unity candle/sand or tree ceremony? 
Return to Wedding Songs Galore from Wedding March Music